Posts: 881
Joined: Fri Jan 07, 2005 7:51 am
Contact:
---
Would "Negro" have been a pejorative term in 1914 ? Perhaps not:
"Marcus Garvey used the word in the names of black nationalist and pan-Africanist organizations such as the Universal Negro Improvement Association
(founded 1914), the Negro World (1918), the Negro Factories Corporation (1919), and the Declaration of the Rights of the Negro Peoples of the World (1920)."
https://en.wikipedia.org/wiki/Negro
S
---
Posts: 881
Joined: Fri Jan 07, 2005 7:51 am
Contact:
It would have been in that context. Why refer to race at all in that situation, but it was repeatedly done in news accounts and Wright's..
Mark Hertzberg
---
An idealized view of the journalist's moral code is admirable; I admire it myself. Unfortunately, the practice of revealing the race of a perpetrator---when
it is one of the racial "minorities" (as viewed by a dominant one), anyway---is a temptation apparently beyond the (self)control of the average editor . . .?

S
---
---
---
I missed Marks December post and was not aware of Ron McCrea's passing until visiting this link. Although we never met and only had a few conversations, I will forever appreciate him asking to use my Taliesin l layout for his book.

An enviable career and many endeavors, we are especially grateful for your definitive accounting of Taliesin... RIP Ron.
---
Posts: 881
Joined: Fri Jan 07, 2005 7:51 am
Contact:
I would be hard pressed to imagine the photo not being from after his arrest. Why would he have been photographed prior to that, especially since he seems to be in a courtroom. Do we have documentation, no, but I think that is a very reasonable thing to surmise given the apparent setting, his demeanor, and the date of publication.
Mark Hertzberg
---
---
I remember Ron McCrea posting a wonderful early photo of several men working in the garden at Taliesin. There was speculation that one of them was Julian Carlton. I've searched but I can't find it.
Anyone?
Update edit: I just found this.
Could this be Julian Carlton?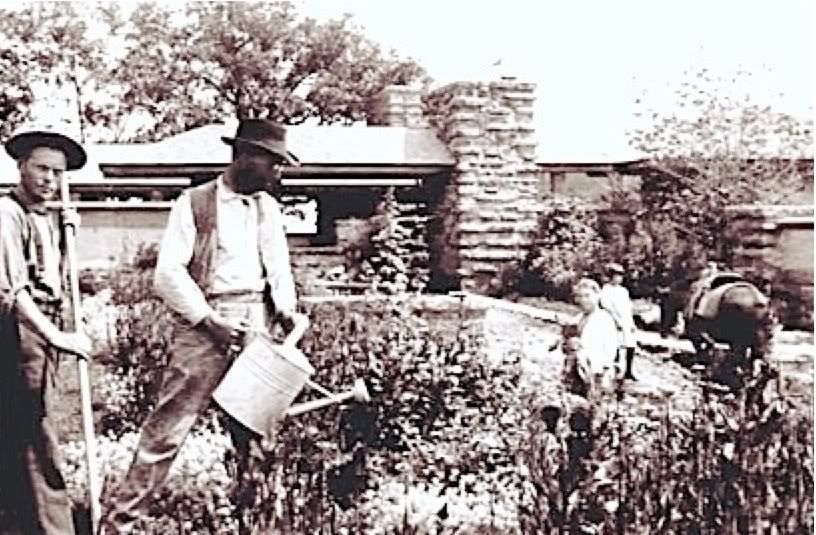 ---
---